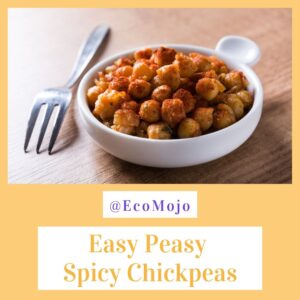 Roasted Spicy Chickpeas
This roasted spicy chickpeas recipe is vegan and gluten-free and as a result makes a delicious and healthy snack. They're perfectly seasoned, a bit spicy, and super easy to prepare. Perfect for a Friday night in front of the telly.You don't need many ingredients for these roasted chickpeas. In fact, it's one of the easiest recipes in my armory.
Ingredients
300

g

Dried Chickpeas

(or 2 tins of chickpeas drained)

2

tbsp

Olive Oil

1

tsp

Paprika

1

tsp

Garlic Powder

1/2

tsp

Salt
Instructions
Soak dried chickpeas overnight or drain the tins of chickpeas

In a medium bowl, toss the chickpeas with olive oil

Preheat your oven to 350 °F. Line a baking sheet with reusable parchment paper. Spread the chickpeas on the baking sheet and then bake them for 25 minutes.

Then take the chickpeas out of the oven and place them in the bowl you used before. Add the spices and toss well until the chickpeas are coated evenly

Return them to the baking sheet and bake for another 10 minutes until they're browned and crunchy, but keep an eye on them to make sure they don't burn at this stage.
Notes
TIPS AND TRICKS It's important to dry the chickpeas as well as possible because this way they will become much crunchier. Sometimes I pop them in the oven for the first ten minutes without any oil and as a result they are lovely and crispy.
Add any spices and seasonings towards the end of the baking time because they have the tendency to burn and make the baked chickpeas a bit bitter.
Don't skimp on the olive oil. It will make the roasted spicy chickpeas super crispy.
If you don't eat them straight away these should store in an airtight container for up to 2 weeks at room temperature. They will even freeze well.